So you and your lover have some serious issues to discuss. Serious things to talk about with your boyfriend ranging from the mundane to the grave. You'll undoubtedly discuss topics such as where your relationship is headed and how your present behaviours are affecting it.
But what if you want to talk about something about which you have no idea where to begin? When you're scared and nervous, what should you talk about? How can you approach such "tough" issues in a comfortable manner rather than making them appear more difficult than they are?
It's important to keep the lines of communication open in any relationship, and there are some topics that require more attention than others. If you're having a hard time starting these conversations with your boyfriend, consider focusing on these topics to make sure you two are on the same page:
Serious things to talk about with your boyfriend
Money:
How often do you talk about money? You should be talking about it at least monthly. If you have difficulties with budgeting or one of you is spending too much or too little, this could be an issue. There are lots of ways to find out how you can get on a healthier financial track together—from creating a joint budget to meeting with a financial advisor.
Are you both planning on having kids? Are you considering adoption? Do you want four kids, or fifteen? Is he going to homeschool them? Will they go to private or public school? These are all things worth discussing now. Having different opinions on education and parenting can cause problems later on if they're not addressed early.
The future:
Tying into the previous point, it's also important to discuss what your hopes are for the future. Where do each of you want to live when you settle down? What does your ideal family life look like? How many pets do you plan
Serious questions to ask your boyfriend:
Finding the right person to be in a relationship with is no easy feat—it's important to make sure you're compatible and stand a chance of having a future together. It's also important to have his interest at heart (it shouldn't be from your side alone). Here are some questions to ask your boyfriend:
* What is your family history like? Do they get along? Have there been any mental health/substance abuse issues?
* What kind of relationship role model do you have in mind, either from your parents or from other sources?
* How will we handle finances and splitting household chores?
* What do you want out of life, and how does that overlap with what I want out of life?
* What are your thoughts on having kids/marriage/disciplining kids if we want them?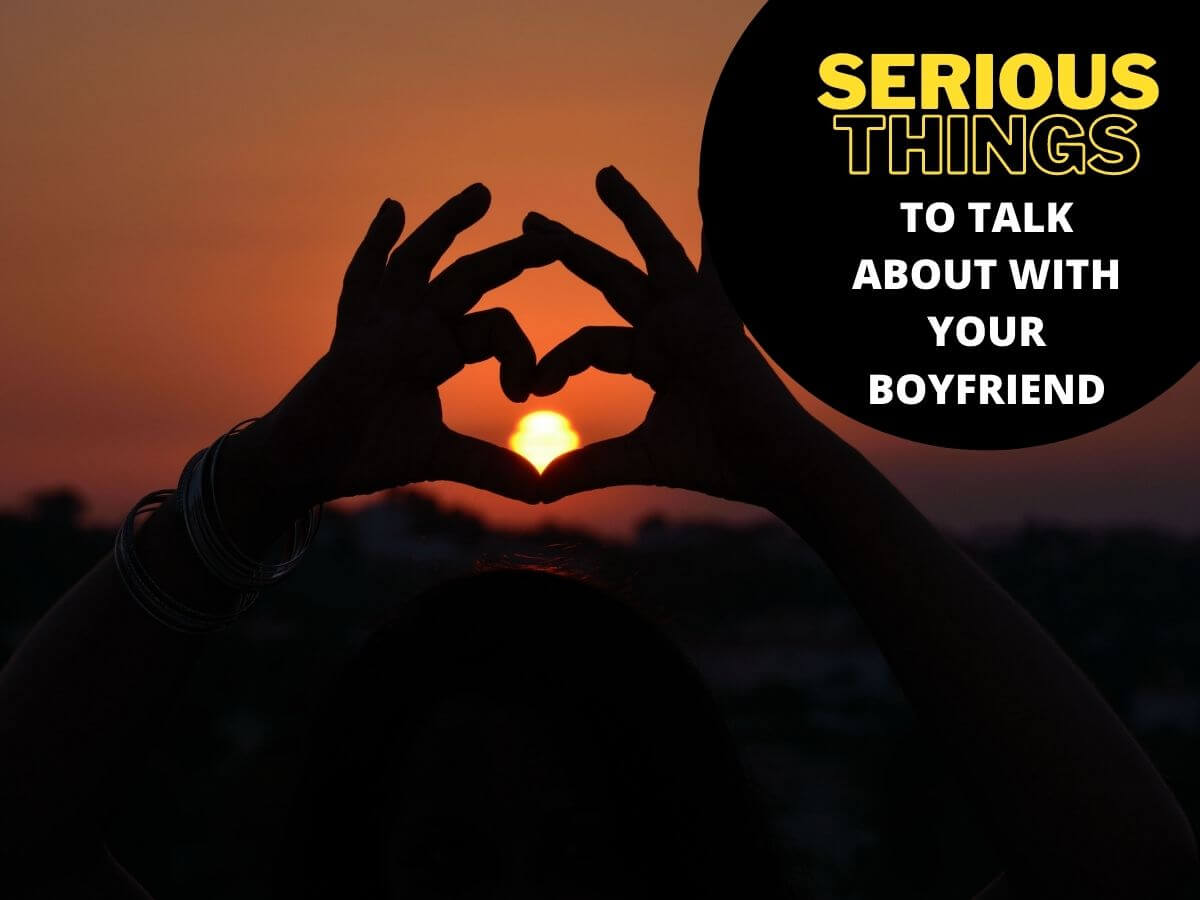 Random things to talk about with your boyfriend:
There's no way to know if your boyfriend is interested or not. You can't force him to be interested in you and you can't force him to like you, but there are ways that you can get him to talk about random things. Here's how:
1. Talk about what he does for a living. He's probably just as interested in that shit as you are.
2. Talk about where he hangs out with his friends. Ask him what he likes to do when he hangs out with them and how often they hang out.
3. Ask him what he likes to eat, what his favourite food is, and if he's ever had it before. This will help you figure out if he has any weird hang-ups on food or not. If he doesn't have any weird hang-ups on food, then you're good to go!
4. Find out if he has any hobbies or interests outside of work/school/gym/etc. This will help you see if there's anything else in his life that he enjoys doing besides working/going to school/going to the gym/etc. It'll also make the conversation flow better because now you know something new about him!
5. Ask what music he listens
6. You can also talk about sex! What he likes and doesn't like while having sex.
Hot relationship topics to discuss:
To help you avoid any awkwardness that might come up on a first date, we've put together a list of hot relationship topics to discuss.
-Favorite song
-Favorite movie
-Hobbies and interests they're passionate about
-Their favorite thing at the grocery store
-Your hopes, dreams, desires, and goals for your lives together
Cute topics to talk about with your boyfriend:
Best Things to Talk About With Your Boyfriend
I know it can sometimes be a little intimidating to bring up new topics of conversation with your boyfriend. You might worry that he'll think you're being too clingy or that you're trying to change him, but that doesn't need to be the case!
You want to keep your relationship fresh and exciting, and you don't want things to get stale, right? It's great to keep finding new things to talk about with each other. If you feel like you've already covered every topic under the sun, here are some cute topics to talk about with your boyfriend:
1. Favorite Color – This is a super simple topic, but it's also one that many people never get around to discussing. If you've never asked each other this question before, maybe bring it up today!
2. Favorite Food – If he says something deep-fried and chocolatey, do not judge him for his food preferences. A man who loves chocolate is one you can trust!
3. Future Plans – A lot of people feel a bit uncomfortable discussing their future plans with someone else because they don't want the other person to feel pressured or think that they're getting into something serious too fast.
Romantic topics to talk with boyfriend:
#1: Talk about the past.
We all have our own personal histories, and it's important in a relationship to share those with each other. Talking about your past is a great way to learn more about each other. Try talking about one of these topics:
-The first thing you ever cooked (or the first thing you remember cooking)
-Your favorite song/album right now
-Your favorite color/scent/flavor
-What's your favorite memory from when you were a kid? Why is it your favorite?
#2: Talk about the present.
There are always things going on in our lives that we should be talking about with the people closest to us. Sharing these can help us understand each other better, so consider discussing one of these topics:
-What's something that made you smile today? Why does it make you smile?
-What's something that really annoys you at work or school?
Serious questions to ask your boyfriend about the future:
We've compiled a list of serious questions to ask your boyfriend about the future so that you can get a clearer picture of what he's looking for and what he's capable of.
While these are serious questions, we recommend asking them in a non-confrontational way—talk about your own hopes for the future first, so that he can feel more comfortable opening up about his own.
Here's our list:
1. Do you want to have kids? If so, how many?
2. Do you want to get married? Why or why not?
3. What are your views on religion or spirituality? How do you see this affecting us as a couple in the future?
4. How do you envision us spending the holidays—do you think we'll stick with our current traditions, or do you see us making new ones together?
5. What is your biggest fear for our future together? How can we work through it together, if possible?
Topics to talk about with your boyfriend over text at night:
1. What do you think your life was like before we met?
2. Are there any dreams you have that you haven't told me about yet?
3. Are there any things you would change about yourself if you could?
4. If you could travel in time, what's the first thing you would do?
5. What has been your favorite memory with me?
frequently asked questions
What topics can you talk about with your boyfriend?
Here are some ideas:
1. Start by asking your boyfriend how he feels about your relationship and if he thinks it's going well.
2. If your boyfriend seems open to talking about the future of your relationship, ask him about his plans for the next couple years. Try to get a sense for what he wants to do in the next year, five years, ten years.
3. If he seems receptive to talking about where your relationship fits into his life, try bringing up some of the things that are important to you in a relationship and see how he responds.
Does he seem excited or nervous when you talk about moving in together? Does he seem excited or nervous when you talk about kids? Or does he have trouble talking about those things at all?
4. If there are things you want from your relationship that he doesn't seem too keen on (or even avoid talking about), you might want to consider if this is the right person for you right now or if you should stay with him until something else comes along. At this point it's really up to you what you want out of your relationship
What are some serious questions to ask your boyfriend?
Do you want to spend the rest of your life with me? Are you going to be honest with me? Are we compatible? these and more are very important, other questions you should ask includes;
1. What is one thing you can't live without?
2. What is your favorite thing about me?
3. How many times a day do you think of me?
4. How will we celebrate our anniversary this year?
5. What is your favorite memory of us together?
6. What are the top three things on your bucket list?
7. If you could do anything with no chance of failure, what would it be?
8. Who would you want to play you in a movie about your life?
9. Who is someone famous that you would want to meet? Why them?
10. What's the best way to cheer you up when you're down or stressed out?
How do I start a deep conversation with my boyfriend?
Starting a deep conversation with your boyfriend can be super intimidating. What if it turns out you don't have anything in common? What if you offended him by bringing up something painful? One of the best ways to get around that fear is by doing some research ahead of time and coming up with an opening question.
When you're ready to start the conversation, try starting with something like, "Tell me about your family." This can be a great way to open up a conversation because families are often such a big part of our lives, yet they sometimes end up being one of the last things we talk about.
Once you've done that, take note of any topics or questions that naturally come up during the conversation. If he starts talking about his childhood and mentions something he loved as a kid, ask him how he felt when he first tried it. If there's something else you're curious about, ask him about it! But remember: don't just assume that because it's important to you, it's going to be important for him too.
How do I keep a conversation going with my boyfriend?
1. Find a hobby you can enjoy together
Sometimes the key to starting a conversation is to participate in one that's already happening with someone else. If you and your boyfriend have a shared interest, try going to an event where you can engage with other people who share that interest.
This is also a great way to get out of your comfort zone and try something new. Plus, it gives you a lot of built-in conversation starters: "Do you like my sweater?", "Do you think this color looks good on me?", "What do you think about the opening act?"
2. Ask questions about your partner
Another way to keep the conversation flowing is by asking questions about each other. You'll both be amazed at how much you have in common! This is also a great way to get to know each other better.
3. Talk about what's going on in your life right now
You don't always have time for long conversations, but that doesn't mean there aren't things going on in either of your lives that could be worth discussing. For example, if your partner just got back from a trip abroad or has been working hard at school lately, ask them about it!
4. Share interesting news stories or pop culture events with him.
Conclusion:
None of us know whether we're going to have arguments, disagreements, fights, and perhaps even breakups in the future. The issue is that when any of these things happen, we may be faced with feelings of anger, hurt, and resentment. And in the heat of the moment, telling our man exactly how we feel can sometimes make things worse instead of better. Here are some serious things to talk about with your boyfriend so that you might avoid a major fight or resolve a minor misunderstanding.