Is the American Marriage Ministries legitimate? Go through his article to find out the answers.
Is The American Marriage Ministries Legitimate?
After establishing its certification procedure and requirements in 2021, the International Association of Professional Wedding Officiants (IAPWO) certified American Marriage Ministries' training program as the first IAPWO AccreditedTM wedding officiant training program.
About American Marriage Ministries
Seattle-based American Marriage Ministries is a non-denominational online church. Glen Yoshioka established the church in 2009, and its ordinations instruct people to officiate weddings. The church is a secular, non-denominational organization allowing its pastors to determine their practice and religion rather than promoting religious ideologies.
This enables ceremonies to be customized to the couple's religious views. In 2017, the church consecrated Canadian singer Carly Rae Jepsen. The church had only conducted online ordinations until June 2019, when its ministers started performing in-person ordinations because Tennessee enacted a law prohibiting ministers who had been ordained online from officiating weddings in the state.
By June 2017, the church had ordained more than 715,000 persons in the United States, including more than 13,400 active pastors in Tennessee, according to Executive Director Lewis King. Several people who had already been ordained online but needed to update their status to comply with the new rule attended the church's mass ordinations in many Tennessee locations.
What American Marriage Ministries Believes
Everyone has the legal right to get married, regardless of ethnicity, gender, or sexual orientation. Every couple has the right to select the celebrant of their marriage, and everyone has the right to consummate their union legally.
American Marriage Ministries, its members, clergy, and congregations view marriage as a holy relationship. Regardless of a person's ethnicity, sexual orientation, nationality, social level, or religious background, everyone has the natural right to marry.
Every wedding ceremony celebrates the ideals of the couple, their community, and their cultures. Marriage is celebrated in some ways around the world. The customs surrounding marriage existed before the United States was founded, the Abrahamic religions and the rise of a democratic society.
In our opinion, a phenomenon that has been revered for so long and is commonplace throughout history can only be classified as sacred.
Our faith is a shared belief. Marriage is a culturally inclusive institution that brings people together, and we consider marriage to have a higher power.
We think every couple united in marriage has the freedom to decide how they will follow their sacred process and who will conduct it.
Everyone has the legal right to get married, regardless of ethnicity, gender, or sexual orientation. Every couple has the right to select the celebrant of their marriage, and everyone has the right to consummate their union legally.
Official Site And Training
For clergy, American Marriage Ministries provides free online training resources and advice. Ministers can search for state or local requirements through a database called the AMM's Legal Requirements library. The organization also offers guidelines on how to execute marriages and become ordained that are city-specific.
For instance, one of the harsher cities, like New York City, requires wedding officiants to register in person at the municipal clerk's office and levies a $15 fee. Virginia is the most problematic state, rejecting the majority of online ordained pastors, although AMM also offers advice on how to deal with it on its website.
AMM launched the Professional Wedding Officiant Certification course in 2022. It is an online training program that offers ministers thorough training in all facets of officiating.
After establishing its accreditation requirements and process in 2021, the International Association of Professional Wedding Officiants (IAPWO) designated American Marriage Ministries' training program as the first IAPWO AccreditedTM wedding officiant training program.
The IAPWO AccreditedTM designation, which rates each program's content and grants credits towards the IAPWO's Certified Professional Wedding Officiant (CPWO) credential to participants who complete the program, is given to exceptional training and educational programs for professional officiants and celebrants.
Is AMM Legal In Los Angeles, California?
Any couple's needs might be met by one of the many wedding venues in Los Angeles. If you're searching for a traditional Hollywood wedding, a beach elopement, a private backyard ceremony, or a lavish celebration at a grand hotel, LA has it all.
No matter where you are married, the person performing the ceremony is more important. The best thing you can do to make your wedding day even more remarkable is to have a friend or family officiate it.
Also, having a friend officiate your wedding is as simple as having them complete the quick online ordination process. California does not require ministers or wedding officiants to register with any government agency after ordination. They do not need to go through the California government again after they are ordained. After receiving ordination, they will be able to officiate weddings legally.
American Marriage Ministries ordain those who perform marriages. However, LA is already home to tens of thousands of AMM-ordained preachers. Even more, ordination through AMM is cost-free and gives you all the required knowledge to train new officials. Keep reading to learn more about conducting a legally-binding wedding ceremony in Los Angeles.
However, the first step you need to follow is:
1. Get Ordained with AMM
In Los Angeles, clergy from American Marriage Ministries can officiate marriages. An IRS-certified 501c3 nonprofit organization called AMM provides free internet ordinations for weddings. An authorized person, as specified in California Family Code Sections 400–402, must officiate at marriage ceremonies in California.
2. Prepare To Officiate The Wedding
The process involved here is officiating the wedding and signing the marriage license.
3. Officiate The Ceremony
In terms of your performative responsibilities, here is where you excel. You will do fantastic if you have done your due diligence in preparing for the wedding ceremony. You might find that officiating a wedding is much more enjoyable than you imagine. Many AMM-ordained officiants initially designated to officiate one wedding end up officiating multiple. It's a lot of fun, truly!
Regarding the marriage license, it is the couple's responsibility to apply. Before conducting the ceremony, make sure to confirm everything with the couple.
The couple must show you their marriage license at some point on the wedding day. You are responsible for filling it out and signing it before them and any necessary witnesses. Whether the marriage license is filled out before or after the wedding makes no difference. All the areas must be correctly filled out, and your signature must appear on the document.
You have completed all your duties as the wedding officiant once the marriage license has been appropriately signed. After that, it is advised that you check in with the couple to ensure that the marriage license has been returned to the office where it was issued.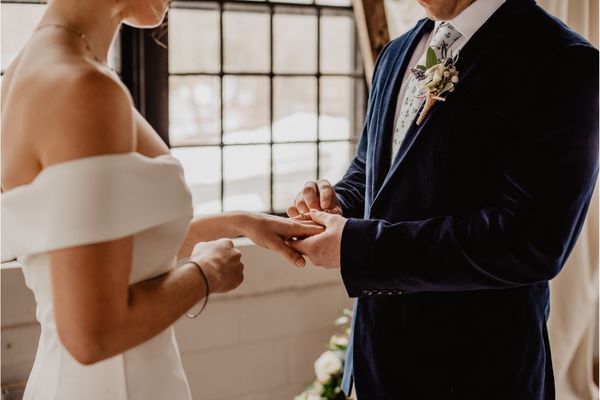 Is AMM Legal In New York?
There are registration procedures you must complete if you intend to have a wedding ceremony in New York City. You must register with the Marriage Bureau of the New York City Clerk's Office, which handles civil marriage ceremonies, domestic partnerships, marriage licenses, copies of marriage records, and marriage record modifications. But do not fret.
We've divided the procedure into two simple parts and provided answers to your most frequent queries regarding conducting weddings in New York City. This will enable you to complete the formalities quickly and focus on planning the ideal wedding ceremony in one of the most famous cities in the world!
Become A Marriage Minister
Your Application Must Be Submitted
Plan The Feast In New York City
Complete The Marriage License And Officiate The Wedding
For The Couple,
You are responsible for filing your marriage license.
The affidavit used in the application. Both partners must provide their full names, current addresses, city, state, ZIP code, country, country of birth, date of birth, Social Security number, and marriage history.
You must indicate all previous marriages if you have ever been married. The full name of your former spouse, the day the divorce was granted, the city, state, and nation where the divorce was issued, and the divorce's date of issuance must all be mentioned.
Before you file for a new marriage license, all divorces, annulments, and dissolutions must be legally binding.
If your spouse has passed away, you must include their real name and the day of their passing.
Is AMM Legal In North Carolina?
North Carolina's legal authorities concur that marriages performed by any internet institution would be regarded as invalid.
In North Carolina, getting married is not too difficult. You must consent to get married and have the preacher declare you legally wed before two witnesses and an ordained minister. Having a friend or family member go online and obtain an "ordination" to conduct your ceremony in North Carolina is not relatively as easy.
Finding a professional wedding officiant entirely and legally ordained by a legitimate church or religious denomination is the safest course of action (although you don't have to have a religious ceremony simply because you need a minister). While verifying the validity of your marriage, your friend or relative can still meaningfully participate in the ceremony.
Marriages may be officiated by "an ordained minister of any religious denomination, a minister authorised by a church, or a magistrate," according to the state of North Carolina. (NCGS 51-1). Moreover, a "church" group has a "distinct legal existence, established places of worship, regular congregations, and ordained preachers picked after completing authorised periods of study," according to legal definitions.
In other words, a "brick-and-mortar" church is required to ordinate ministers (IRS Publication 1828). Regrettably, several practicing ministers in NC have online or "mail order" ordinations. Although those marriages' legal standing may never be in doubt, there is a potential that they could be ruled invalid in a court of law.
Conclusion
Even though AMM is legitimate, it is not fair in some states in America. However, some states support it. Go through the article to learn.