The question "Can your spouse be your doctor" is often asked when a medical couple finds themselves in a medical situation where they are more financially and physically comfortable having their spouse treat them.
This article will cover the legal implications behind having your spouse treat you, the limitations or restrictions, and the effect of having a medical spouse.
Can your spouse be your doctor
Physicians have several difficulties while treating members of their own families or themselves, including issues with informed consent, patient autonomy, and professional objectivity.
The doctor's personal feelings may unreasonably affect their professional medical judgment if the patient is a member of the immediate family.
Or the doctor can skip over intimate aspects of the physical examination or sensitive areas when gathering a medical history.
While it may make them uncomfortable, doctors may feel compelled to treat family members. They could also tend to handle issues outside their training or experience scope.
Similarly, patients can feel uneasy receiving care from a relative.
When the doctor is a member of the patient's direct family, they could be hesitant to open up or have an intimate examination.
This pain could be magnified if the patient is a young child who might not feel empowered to refuse parental care. In general, medical professionals shouldn't care for members of their own families or themselves. However, under certain situations, it might be appropriate to do so.
Recognize that if there is a professional rift with a family member, possibly due to a poor medical outcome, this may affect the family member's relationship with the doctor.
During emergencies or in remote locations without access to another certified doctor. In these circumstances, doctors shouldn't be reluctant to treat themselves or their family members until another doctor is available.
Recognize that relatives could be hesitant to express their preference for another doctor or deny a recommendation out of concern about upsetting the doctor. Keep track of any therapy or care is given, and tell the patient's primary care physician of any pertinent details.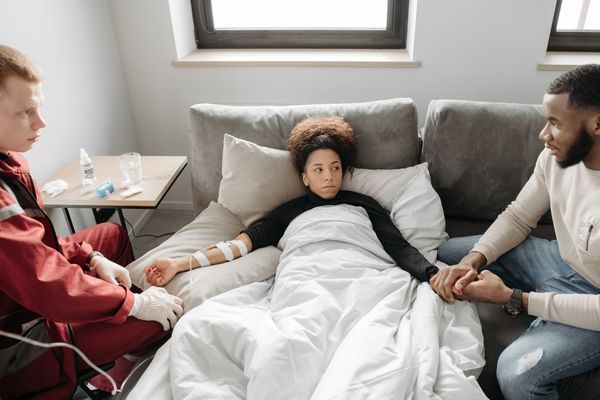 Reasons why your spouse is your doctor
Many spouses have provided a wife or husband with financial and emotional support as they pursued their medical degrees. Such a debt may be "paid back" by choosing to provide medical treatment for the spouse.
As a result of the act of kindness through sponsorship to medical school and other expenses, spouses are pressured to fill the medical care gap in their homes permanently.
When the spouse-patient requires assistance, convenience and accessibility may precede other factors. Medication, therapies, and patient records are typically accessible to doctors with little difficulty.
Physicians' spouses could get a tetanus shot or a skin test for tuberculosis without contacting another doctor, unlike lawyers' spouses. Similar to how lawyers might receive legal counsel without seeking out another attorney.
To save costs and spend little, it would be very convenient for couples to adhere to home treatments.
What does the law say?
The fact that there are currently laws prohibiting treating one's spouse is a strong argument against treating one. A South Carolina Bureau of Drug Control rule states that "a physician… cannot prescribe narcotics (or other banned substances) for himself or members of his immediate family." The doctor in Case 2 was informed of this rule.
This organization has determined that the doctor's relationship with their own family is not a legitimate physician-patient one. The doctor-spouse relationship is undoubtedly a deviation from the traditional doctor-patient relationship.
The former involves a unique relationship with obstacles to proper care, such as the doctor's denial and lack of objectivity when treating his spouse.
Alternatives for Medical Professionals' Spouses' Care
Some doctors could realize the obstacles to receiving adequate care and choose not to treat. The doctor's spouse could then receive medical attention from another doctor.
This doctor might be a friend of the doctor, creating a doctor-patient connection that is tainted. The unhappy patient discovers a specialist staring into every possible orifice, taking extreme care not to miss anything in the doctor's wife or child, creating extensive lists of tests to be performed, and prescribing treatments that are neither necessary nor desired.
Such specialist overkill could impress a physician colleague and lead to incorrect diagnoses and unsuccessful treatments.
Does HIPAA apply to married couples?
During Bill Clinton's presidency in the 1990s, when the administration and Congress attempted to address several healthcare-related issues, the Health Insurance Portability and Accountability Act (often known as "HIPAA") was passed.
One of these issues was the difficulty many experienced keeping their insurance coverage when they switched employers. Part I of the regulation is covered under the "Health Insurance Portability."
This part of the regulation required health plans to make space for new members joining existing programs. This was done to address the issue of people who change jobs only to find that their new employer's insurance policies don't cover "pre-existing conditions."
The Privacy Rule aims to prevent the marketing or sharing of individuals' health information without their consent. This was created to protect people's privacy who might not want their data shared with health researchers or companies that promote medical supplies and services.
The HIPAA criterion HALOCK talks about most with clients are the security Rule. The Security Rule is a list of what they refer to as "specifications," or different kinds of controls that companies should consider. At the same time, handling protected health information, or "PHI," as it is more often known.
Although the Security Rule specifications are vaguely described, they are intended to serve as the basis for a risk assessment rather than an audit.
Numerous provisions in the HIPAA Privacy Rule acknowledge the crucial part that family members,  like spouses, frequently play in a patient's healthcare.
For instance, Confidentiality permits covered entities to give family members access to information concerning the patient's care in several situations.
Additionally, it calls for covered entities to usually regard a person's representative—who can be their spouse—as if they were that person to exercise their Privacy Rule rights, such as the ability to access their health information.
Can a husband get his wife's medical records?
Unless the patient is a kid, their spouse, or has named them a personal representative,  HIPAA  does not allow family members to examine patient records, even if they are paying for healthcare premiums.
However, there are several exceptions and situations in which HIPAA permits sharing patient information with relatives or other people.
The individual representatives
The HHS website states that a person's representative has been given written consent by the person, the State, or another applicable legal authority to act on the person's behalf and have access to PHI.
In particular, when it comes to the uses and disclosures of the patient's protected health information, the HIPAA Privacy Rule mandates that covered entities treat a personal representative as they would the patient themself.
State rules, which might differ from state to state, dictate who can serve as a person's representative, including whether spouses, same-sex spouses, and family members can.
To protect the kid from harm, a mental health or medical expert may decide not to treat a parent as a personal representative if they have a reasonable basis to believe that the child has experienced or may experience domestic violence, abuse, or neglect.
Exceptions to providing care for a spouse
Physicians must not provide treatment for themselves or family members except:
For a minor condition or in emergencies;
and
When another qualified healthcare professional is not readily available.
Physicians must not provide recurring episodic treatment to themselves or family members for the same disease or condition, or provide ongoing management of a disease or condition, even where the illness or condition is minor.
As the same risks of compromised objectivity and meeting the standard of care may arise when providing care to others close to them, physicians are advised to carefully consider whether it would be appropriate to provide treatment in these instances;
Where the relationship would reasonably affect the physician's professional judgment, physicians must not provide treatment to an individual close to them, except by the circumstance in provision 2 of this policy.
When the nature of the relationship with family members or others close to them has changed, physicians must re-evaluate their relationship to determine whether they can still be objective.
Physicians must always act within the limits of their knowledge, skill, and judgment.
Providing treatment by this policy is limited to addressing the immediate medical needs associated with treating a minor condition or emergency. Where additional or ongoing care is necessary, physicians must transfer care of the individual to another qualified healthcare professional as soon as is practical.
Final thoughts
In any event, choosing a separate physician before an emergency is probably preferable for physician families. As a result, the
The physician can step down from their job as a doctor, and the spouse can get the necessary medical attention.